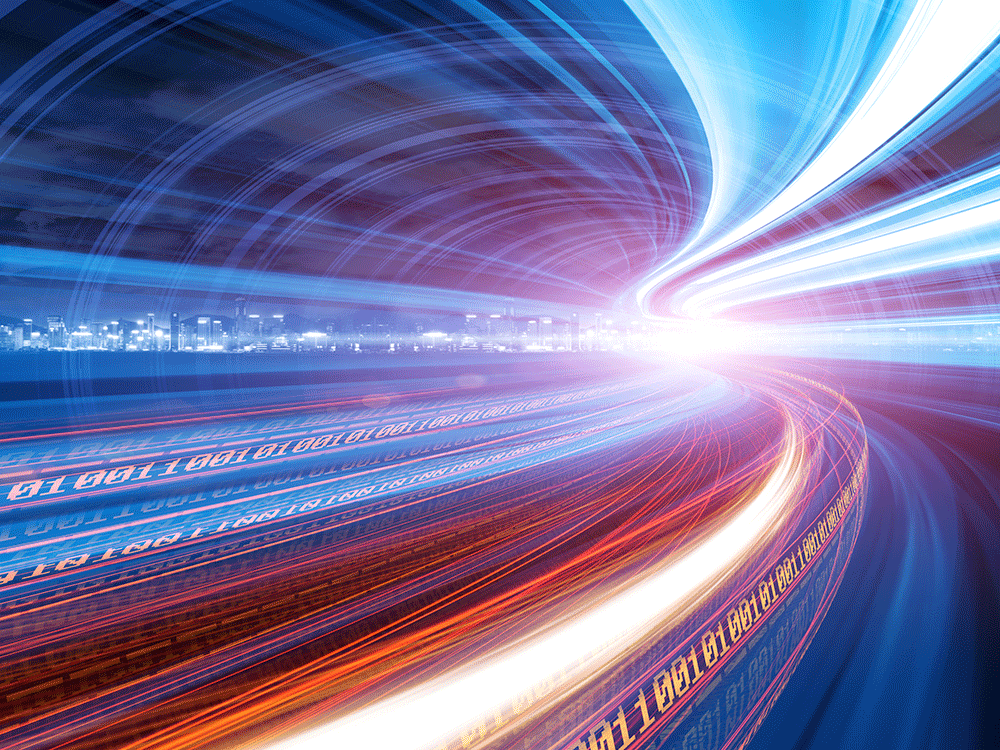 Digital Speed at Scale
Digital Speed at Scale
by Tom Dissing
A practical approach to transformation that meet customer expectations, delivers profitable growth and builds digital capabilities
Only 16% of digital transformations are successfully executed (Note 1). Why is this so hard and what can be done to quickly reverse this statistic to 84% being successfully executed? What can we do differently to avoid digital value destruction and instead realise digital value at scale?
Companies that are achieving digitisation at scale have given us a playbook for how to go about this. Using a data-first approach, they have reimagined their most important customer journeys. Instead of trying to remove friction from existing analogue processes, they apply a mindset of deciding where to add friction to enhance digitised processes with human touchpoints.
Re-imagining Customer Journeys
Today's customers do not want digital versions of the same manual, slow processes they faced yesterday. Companies that are winning in an increasingly digital marketplace are recognising that they must reimagine and digitise customer journeys (the end-to-end processes that customers experience in getting the product or service they need; across whichever channel they choose).Traditionally, companies have looked to improve customer experience results by focusing on specific touchpoints. But, as illustrated in Figure 1 below, it's only when looking at a customer journey in its entirety across channels and over time, that real pain points – and therefore opportunities for positive impact can be identified.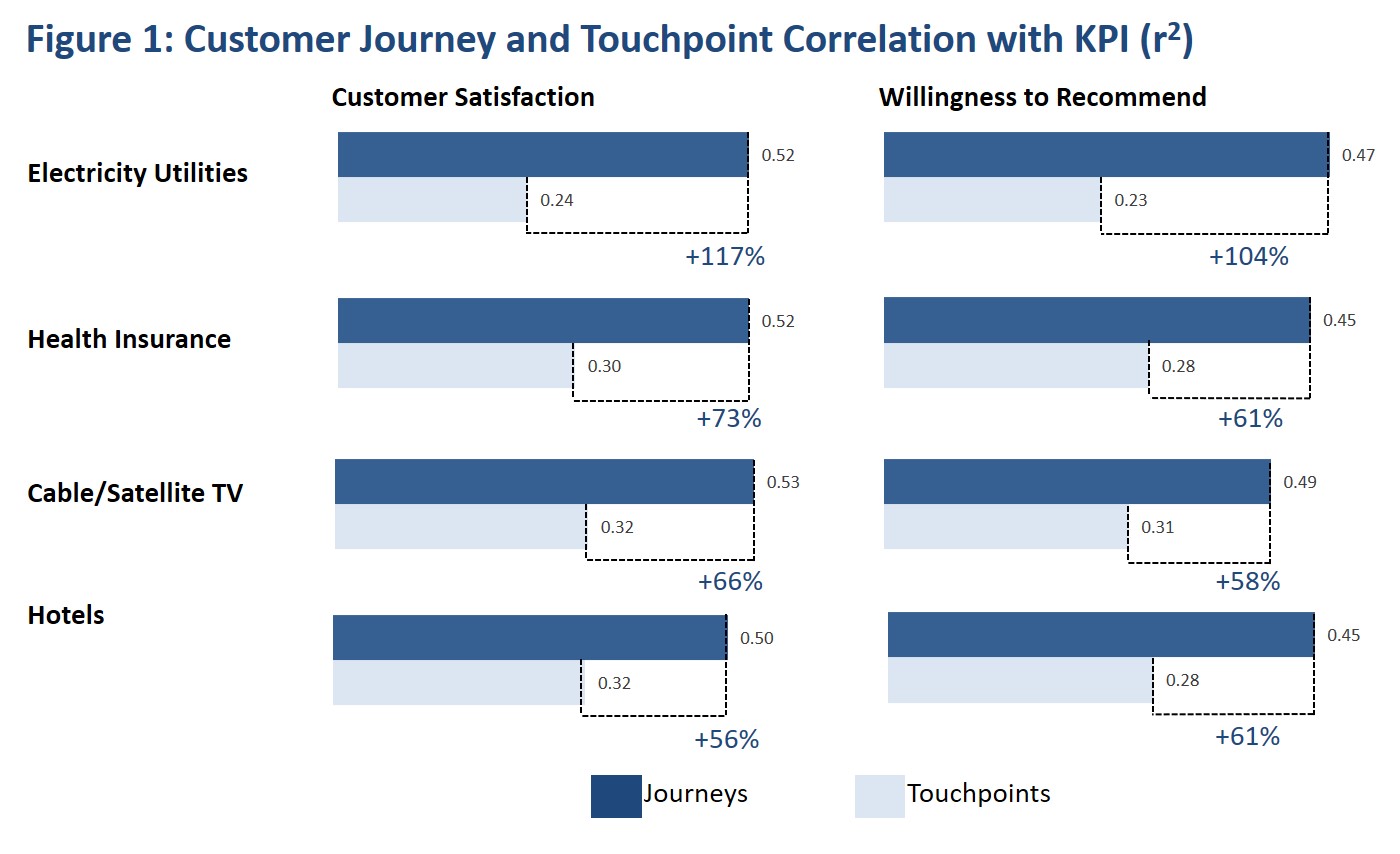 Source: Pointillist; McKinsey
Transformation initiatives must be linked to important success metrics or key performance indicators (KPIs). Successful transformation initiatives deliver a positive change in KPIs. Investment cases are developed, and as customer journeys and KPIs often span multiple departments and teams, budgets are adjusted accordingly to ensure that organisational accountabilities for results are accepted and managed across the organisation.
Competing near Zero Marginal Cost
Digital products have near zero marginal costs. Consider the difference between selling a physical book and an eBook. Every sale of a physical book requires printing, storing and delivery costs – even when bought online. On top of this, it typically takes several days to get the book delivered to the preferred location. In a digital business, the eBook can be reproduced millions of times at near zero marginal costs – and the buyer can experience the book almost instantly. You don't have to be Einstein to figure out that if an analogue business is competing with digital businesses, then the digital business has a massive competitive advantage.
Competing in a digitised customer journey with near zero marginal cost has a multiplier effect on profitability. As companies can offer products and services at much lower pricing than analogue competitors, in combination with faster and better customer experiences, demand has the potential to increase exponentially.
Digitising at Scale
The leap to reimagining and transforming multiple analogue customer journeys require new capabilities. There are three elements that require up-front planning to execute digitisation at scale:
Digital Capabilities;
Platform Strategy; and
Data Operating Model.
Digital Capabilities
Capabilities encompass people, process and technology. Developing digital capabilities require investments in people (training and potentially hiring) and new tools. Examples include customer journey design and testing, customer journey analytics, online personalisation, data management, data analytics, machine learning and artificial intelligence. This is typically best explored and agreed across the company's key stakeholders by developing a digital business capability model (DBCM). A DBCM effectively provides a map of all capabilities (new, changed and redundant) required to operate the company.
Platform Strategy
Automation plays a key role in scaling a digital customer journey. Companies that apply robotic process automation (RPA) to individual touchpoints are seeing process improvements and cost efficiencies. However, they are effectively automating analogue steps in a customer journey. This approach has its place, but it is sub-optimal when trying to scale digital touchpoints across multiple customer journeys. This is where platforms play a critical role as a strategic enabler. Platforms, particularly related to customer experience and relationship management, e.g. Salesforce and Microsoft Dynamics, enable a company to take advantage of pre-integrated automation workflows across marketing, sales and analytics. They even link to customer journey mapping as well. The main reason these technology solutions are called platforms is that multiple customer journeys and processes can leverage the continuous stream of new features and functions on these platforms, including advances in machine learning, artificial intelligence and analytics. Companies that successfully scale digital businesses invest in these platforms up-front, so that each newly reimagined customer journey can be implemented faster as it leverages the common elements of the platform investment.
Data Operating Model
An operating model is essentially "how we do things". In a fully digitised customer journey, everything is data. One of the foundational digital capabilities required to execute a digital customer journey is data and analytics. However, as speed and innovation are crucial in the battle for customer attention and share of wallet, companies that design their data operating model around DataOps are the ones that have the ability to rapidly and continuously implement changes that make their customer's experience even better. In a digital scenario, these changes are data-driven, e.g. internal operational data shows that a touchpoint is causing a high level of churn or external buyer behaviour data shows that customer channel preferences are changing. A data operating model considers 5 areas: Organisation (structure, roles, responsibilities and skills), processes, systems and tools, engagement (stakeholder interactions) and governance. When companies design their data operating models up-front as part of digital transformation they can leverage this to execute data management and analytics activities at speed.
Where to start?
If you haven't started to re-imagine and scale your business, it is often useful to create one or two prototypes to build momentum. Proving the tangible benefits of digital scale with a customer journey or two is an impactful way to showcase the benefits that are achievable and the need for new ways of working.
Notes:
McKinsey: Unlocking Success in Digital Transformations, 2018
---
If interested in a proven, structured and accelerated process to re-reimagine and scale your digital business, connect with us via email on, or to explore transformation ideas via a facilitated workshop in our Transformation Hub space, why not connect with us on info@technologyconnect.com.au or linkedin.com/company/technologyconnect
The future is yours – if you want it!
Tom Dissing is the founder and Managing Director of Technology Connect. He has deep expertise in guiding medium and large organisations on their digital transformation journeys as they re-imagine and scale their businesses in response to the disruptive challenges and opportunities of the 4th Industrial Revolution. He has advised senior executives in Financial Services (Banking and Insurance), Media & Entertainment, Construction & Engineering, Technology Services and Government (Federal and State) in Australia, New Zealand, Asia and Europe.
Copyright © 2019 Technology Connect. All rights reserved.