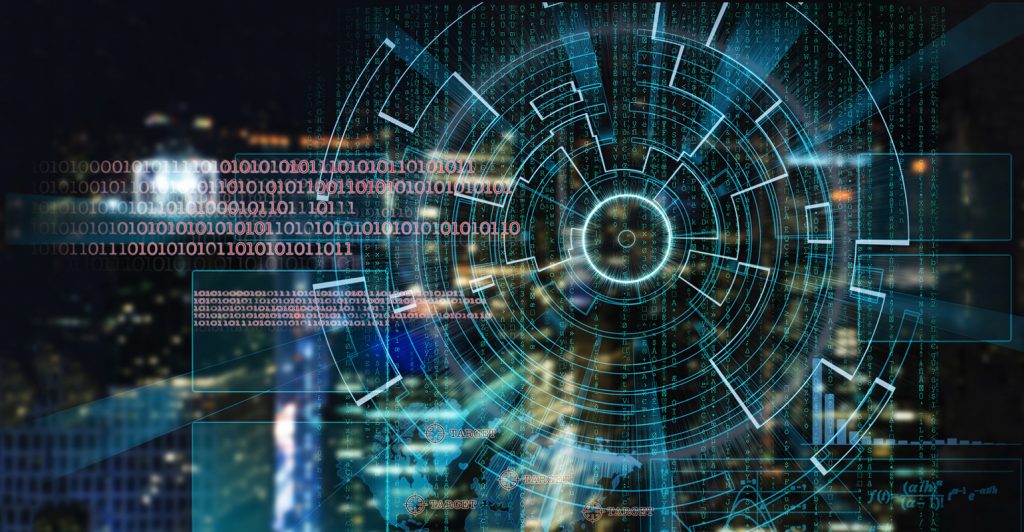 Beyond Digital First Procurement
Beyond Digital First Procurement
Advanced data analytics is driving a new procurement era
Leading procurement functions have been busy transforming along digital-first use cases and journeys to deliver financial and non-financial business value. As the acceleration of digital change continues to "lift the bar" for the best performing companies, procurement and supply chain leaders need to look beyond a digital-first approach to maintain, or even become, a differentiating capability for their organisations – thereby being a major contributor to realising a sustainable competitive advantage. Advanced analytics is the next frontier in procurement. Those who are first to get it right stand to make significant positive impact for their customers, employees and ecosystem of stakeholders.
Considering how the procurement operating model has evolved over the past 20 years along dimensions such as People, Technology and Data, companies are experiencing an inflection point where leading procurement functions are moving beyond the digital-first model.  Figure 1 below illustrates the evolution of procurement capabilities and operating models across three distinct eras: ERP, Digital and Advanced Analytics.
Figure 1: Procurement Beyond Digital First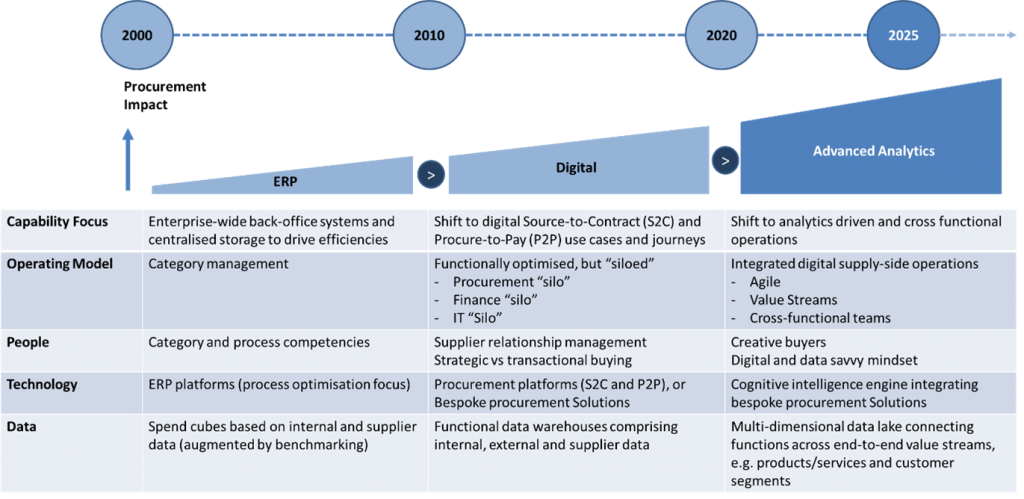 Source: Technology Connect Analysis
During the first decade of the 21st century, procurement functions were busy embedding the traditional category management procurement model using ERP solutions, primarily provided by Ariba (now SAP), Oracle and Emptoris (now IBM). This was driven by a focus on cost efficiency. Data analytics was based on spend cubes along the traditional direct and indirect procurement categories.
In the decade since 2010, after the global financial crisis, cloud computing became mainstream. With data storage and processing power significantly cheaper, procurement functions accelerated their digitisation journey. This was welcomed by all business users, as the traditional bureaucratic procurement processes and template-driven culture was replaced with digital self-service solutions either within P2P solutions, such as Coupa or Fieldglass, or various bespoke procurement solutions, such as Icertis for contract life cycle management and SirionLabs for supplier performance management. Leading procurement functions started to introduce various automation solutions, including the use of bots for sourcing and contract negotiation. However, this era was constrained by the "siloed" operating model, where procurement, finance, IT and other support functions were separated with different teams, systems, processes and data requirements. This made it challenging for procurement to move beyond the provision of transactional value to the business, such as lower cost to serve.
Looking ahead towards 2025 and beyond, leading procurement functions are extending beyond the digitisation of procurement and are starting to apply advanced analytics to exponentially increase the impact to the business. The supply-side of the business has traditionally been the "poor cousin" of investments in data science and analytics capabilities, which has primarily been centred on customers and products. However, the global Covid-19 pandemic has demonstrated the importance of suppliers and how a resilient supply capability is critical to avoid margin erosion and loss of market share. In most organisations, 50% of the value chain is dependent upon suppliers, so this is important!
Leading procurement functions are now implementing an integrated and agile operating model. Here, all support functions collaborate in an almost fluid, use case by use case, cross-operations digital structure to accelerate delivery of lower costs (impact to bottom line) and faster growth (impact to top line). This is also delivering higher supply chain resilience and faster time to market for new products and services.
The critical capability underpinning this transformation is advanced data analytics. Leading companies are combining data from the above mentioned "silos" into a single source of truth data lake for the supply-side of the business. These companies are rapidly building predictive algorithms using internal, external (product, market, economic, social etc.) and supplier data across their value chains to accelerate and maximise impact. Soon, companies will be starting to pilot data sharing, e.g. sharing predictive algorithms within a closed group of like-minded organisations, which 'takes externally proven predictive algorithms to their data' and thereby complies with data privacy and information security regulations and policies. This creates a new "super-charged" journey towards better insights and actions.
The decision conundrum of whether to implement a procurement platform versus bespoke procurement solutions will be replaced by decisions supported by an "intelligence layer", such as HICX, that transforms and integrates structured and unstructured data sources to automatically present insights and perform procurement actions – again using the advanced analytics capability. The intelligence layer spans the end-to-end supply chain and operations to continuously improve cost, reduce time and risks related to margins on products and services. This cognitive intelligence engine could conceivably confine category management to a legacy structure and mindset.
This new data-driven cross-functional operating model requires a new mindset from procurement leaders and teams. Automation and bots are rapidly being implemented to handle the transactional procurement processes and outcomes  in the source-to-contract and procure-to-pay procurement domains. Business self-service procurement functionality is accelerating this trend. The new capability in procurement is going beyond the strategic versus transactional buyers and demanding most procurement professionals become creative and data-savvy buyers, accountable for delivering business value. To perform this role, these teams rely on advanced analytics to negotiate the best deals and a high performing resilient ecosystem of suppliers.
________________________________________________________________________________________
We're entering a new era of procurement powered by advanced supply-side analytics. Companies that do not rapidly increase their supply-side data analytics capabilities, evolve their mindsets and operating models beyond digitisation will be "left in the dust". Is your procurement function ready…?
Tom Dissing is the founder and Managing Director of Technology Connect. He has deep expertise in helping companies digitally transform and scale their businesses through better, faster and smarter use of emerging technology and optimising value from ecosystems of supplier capabilities. Tom is a trusted advisor to procurement, technology and finance executives and senior management teams. He has advised senior executives in Financial Services (Banking, Insurance, Wealth and Superannuation), Media & Entertainment, Construction & Engineering, Technology Services and Government (Federal and State) in Australia, New Zealand, Asia and Europe.
Copyright © 2021 Technology Connect. All rights reserved.